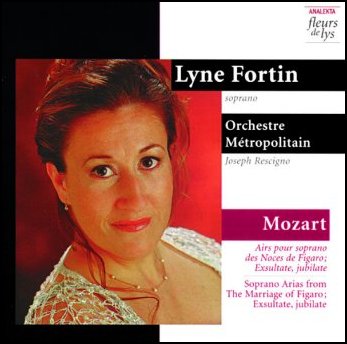 If you enjoy this sample, you can listen to the entire CD on youtube.

Mozart, Soprano Arias from The Marriage of Figaro; Exsultate, jubilate
starring soprano Lyne Fortin and l'Orchestre Métropolitain du Grand Montréal, conducted by Joseph Rescigno
This recording contains Exsultate, jubilate K. 165 and arias from Le nozze di Figaro K. 492 in which Lyne Fortin sings the parts of of Susanna, Cherubino, and Contessa. The CD is FL 2 3131 ©1999 Groupe Analekta, Inc., Montréal, Québec, Canada. All rights reserved. Reproduced here with permission. Analekta's CD covers are designed by DIFFUSION i MéDIA which graciously supplied the JPEG you see embedded here.
---

Audio
We are making available here the last 83 seconds of the Duettino between Susanna and the Countess. Lyne Fortin sings both parts:

As you can see, our original mp2 files are smaller than the successor mp3 files. Most media players that will play mp3 files will also play the older files—but not quite all.

The RealAudio file is engineered for a 56 Kbps modem. If you get breaks in the sound, click on the RealAudio download rather than the stream.

The Words (omitting much repetition):

in italiano
Ei già il resto capirà, certo, certo il capirà. Canzonetta sull'aria... Che soave zeffiretto... questa sera spirerà... sotto i pini del boschetto... Ei già il resto capirà... Certo, certo il capirà, il capirà.
in English
He will understand the rest. Certainly he will understand it. A little song on the breeze... How gentle is the zephir... that this evening moves the air... under the pine trees in the woods... And he will understand the rest... Oh, yes, he will certainly understand the rest.
en français
Il aura compris le reste. Certainement, oui, il le comprendra. Une chansonnette dans la brise...quelle douce brise....ce soir il fera....sous les pins du petit bois.....et il aura compris le reste...certainement, oui, il le comprendra, il le comprendra.


—Concertatore is grateful to Laurent Lacoquelle for help in translating this into French.
---