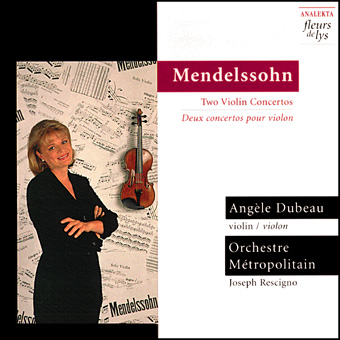 If you enjoy this sample, you can listen to the entire CD on youtube.
Mendelssohn, Two Violin Concertos
starring violinist Angèle Dubeau and l'Orchestre Métropolitain du Grand Montréal, conducted by Joseph Rescigno.
This recording contains the following works by F. Bartholdy Mendelsshon:
Concerto in D minor for violin and string orchestra (written at age 13 and not often heard)

Concerto in E minor for violin and orchestra, Op. 64
The CD is FL 2 3098 ©1997 Analekta Recording, Inc., Montréal (Québec), Canada. All rights reserved. Reproduced here with permission. Analekta's CD covers are designed by DIFFUSION i MéDIA which graciously supplied the JPEG you see embedded here.
---

Audio
re-engineered December, 1998
We are making available here the last 75 seconds of the famous and much-loved E minor concerto:
As you can see, our original mp2 files are smaller than the successor mp3 files. Most media players that will play mp3 files will also play the older files—but not quite all.
The RealAudio file is engineered for a 28 Kbps modem. If you get breaks in the sound, click on the RealAudio download rather than the stream.
---